Our Coordinator
Health Agencies
www.marioncountyhealthdept.org
Up Coming
* National Weather Service Office, St. Louis, Storm Spotter Training. Tuesday Feb 21, 2023. Salem Community Activities Center, 416 Oglesby St. 6:30 PM. No pre-registration required. Open to the public.
* State Wide Outdoor Warning Siren Test is the first Tuesday of each month at 10:00 AM, weather permitting.
* ShakeOut Earthquake Drill October 19, 2023-10:19 AM.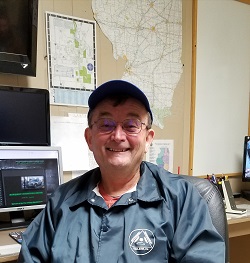 Appointed May 23,1980. Coordinator Terry Mulvany has announced his retirement date. The last day serving as coordinator will be April 30, 2023,
Our coordinator, Terry Mulvany, started his career in 1969 with the Marion County Civil Defense. Terry also served with the Salem Fire Protection District for 15 years and as a Reserve Police Officer with the City of Salem Police Department for 5 Years. During this time, he became a EMT, worked with local emergency medical services. Terry started his career as the City of Salem Department of Emergency Management Coordinator in June of 1980 replacing retiring Coordinator, Howard Hays. Mayor at this time was Charles L. McMackin II, he appointed Terry with the councils approval. He has held this position for 42 plus years due to his outstanding leadership and his knowledge on Emergency Preparedness and Response. The City of Salem ESDA/DOEM has been a state accredited municipality EMA agency while serving as our coordinator. The coordinator position is a part-time appointed position but Terry spends more time with DOEM than required. Terry was owner/operator of his construction company, Terry's Construction of Salem, no longer in operation, retired. This agency is proud to have Terry as coordinator.
As mentioned above, the Coordinator was involved with emergency services prior to being appointed city coordinator, first disaster he was involved with was the June 10, 1971 Tonti Train Wreck where 11 people lost their lives and over 100 were injured, Mulvany was a rookie with the Salem Fire District and a member of the Marion County Civil Defense when the Tonti Train Wreck occurred. Another emergency was the Iuka Train Derailment on December 13, 1972 where 32 cars derailed, several burst into flames. The Salem Fire District responded to the call to assist Iuka Fire Department. While serving on the Salem Fire Protection District, he witnessed many family emergency/disaster situations because of fire or automobile accidents.
Terry would like to share some of the past emergency/disaster situations while serving as coordinator. The first major task was the water shortage in the city reservoir, (Pictures on Home Page) this happened during September, October and November of 1980. Water was pumped from the Barrow Pits (Ponds) near Tonti Road and I- 57 into pipe and ditches all the way to the north end of the city lake. Coordinator was responsible for the 24 hour operation of the pumping and the hired persons who worked 8 hour shifts maintaining and observing the pumping equipment. The State of Illinois Emergency Services and Disaster Agency ( now know as the Illinois Emergency Management Agency) assisted with the situation, providing pumps and pipes. During the years, a major snow storm, ice storms, flood and flash flooding, wind storms and yes, the April 19, 1996 Tornado have occurred. The 96 tornado was a State and Federal Declaration, the only Federal Declaration while serving as coordinator. Just a couple of weeks after the Tornado, a Severe Thunderstorm that produced golf ball and larger size hail hit Salem. On January 6, 2014, a major snow storm sent over 500 I-57 travelers to shelters in Salem, shelters were local churches. The coordinator has responded to many disaster sites, mostly tornado related such as in New Baden, Allendale, Marion, Flora, Newton, Centralia, Fayette and Marion County areas. Flooding problems during the city reservoir and dam repair projects created emergency situations down stream including problems with the water treatment plant and flooding of the mobile home part down stream. The mobile home park has been an area of concern several times during flooding situations. In September of 2015, two major structure fires in Salem, the old Brown Shoe Company with a house across the street and two buildings behind the Salem Fire District in downtown Salem. The fires occurred within three days of each other. The Brown Shoe building was probably the largest structure fire in Salem. COVID 19 2020-2021 is the first world wild pandemic that he has been involve with at the local level, hopefully never a pandemic again, it affects all of us.
Terry volunteers his time with other emergency services agencies such as a member of the Illinois Emergency Services Management Agency (IESMA). He currently serves on the Marion County 911 Board. He is a past long time member and served as assistant secretary for awhile with the Marion County Agricultural Fair Association.
The volunteers who serve under the leadership of Terry deserve much credit for the departments operation. The agency would not be where it is today without the dedicated members. Terry will be the first to admit he could not have served 42 plus years as a leader without the volunteer members support.
Terry has always given his parents credit for allowing him to be involved with emergency services starting at a young age. He was working for his fathers construction company (Mulvany Construction) during the 70's. His father would let him leave job sites to respond to fire calls, Civil Defense call outs. Terry's parents have both passed.
Terry's wife is Sheila, Stepson is Andrew Strong, who is currently serving as the Assistant Director.
Terry continues to serve as the City of Salem Department of Emergency Management Coordinator as of this update....01/17/2023.
Salem is an EVERBRIDGE NIXLE Alerted Community, SIGN UP NOW for EVERBRIDGE NIXLE Salem Alerts at www.nixle.com