Page Title goes here
Provide a short description of your web page here, using bright bold pre-styled fonts with colors that stand out ... to quickly attract the attention of your visitors.
Whats New:
2018 / 2019 EOP Update has been completed and approved by IEMA for a two year period, update due by December 31 2020
The City of Salem Department of Emergency Management has Nixle. Sign up Now www.nixle.com Use Zip Code 62881
Upcoming Events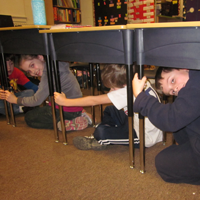 Get Ready To Shakeout! Drop, Cover, and Hold On was held at 10:19 a.m. on October 17, 2019 during the Great ShakeOut Earthquake Drill www.shakeout.org
Salem Home Show, March 2nd and 3rd, 2019. Stop by and visit our booth!
Public Safety Night at the Marion County Fair, Thursday August 1, 2019
Recent Events:
www.shakeout.org/centralus The Great Shakeout was held on October 17, 2018
The City of Salem Emergency Operations Plan (EOP) has been reviewed and approved by IEMA R9 Office. 11/30/18 Next update due December 31, 2020
Two major structure fires occurred in Salem on September 25 and 27, 2015. Several area fire departments assisted Salem Fire District, Marion County EMA, City of Centralia EMA assisted Salem EMA. The City of Salem was accredited a Full Scale Exercise with this event.
Salem Emergency Management along with Salem Police Department participated in the "Operation Wildcat" State Weapons of Mass Destruction Team Full Scale Exercise-MSEL- on December 7-8, 2016
Public Safety Night was held at the Marion County Fair on Thursday August 2, 2018. City of Salem Department of Emergency Management participated with vehicles and information table.
Product Catalog
The catalog page is layed out as an example of how you can set up your product sales page. This page does not use an ecommerce shopping cart solution although there are many ecommerce solutions available. This catalog page is a simple table based layout that includes the PayPal 'Add to Cart' button. The PayPal button is created on the PayPal website, then inserted into the product page. If you wish to use PayPal buttons you would need to sign up for a PayPal account. You can then edit the properties of the included PayPal buttons, or use a PayPal button wizard tool to insert the buttons for you.
The 'View Large Image' link opens a lightbox window which displays a larger product image and description.
Select your products
Product Name
Price: $9.99


Description: Product details go here

Product Name
Price: $9.99


Description: Product details go here

Product Name
Price: $9.99


Description: Product details go here
---
Product Name
Price: $9.99


Description: Product details go here

Product Name
Price: $9.99


Description: Product details go here

Product Name
Price: $9.99


Description: Product details go here
---
copy new product table here
---