HURRICANE • FLASH FLOOD • HAZARDOUS MATERIALS SPILL • EARTHQUAKE • TORNADO • WINTER STORM • FIRE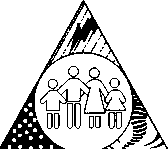 FAMILY EMERGENCY PREPAREDNESS
Helping Children
Cope with Disaster
Earthquakes... tornados...fires...floods...hurricanes...
hazardous materials spills... **********
Disasters strike quickly and without warning. These events can be traumatic for adults, but they are fright­ening for children if they don't know what to do.
During a disaster, children may have to leave their homes and daily routines. They may become anx­ious, confused or frightened. As an adult, you'll need to cope with the disaster and also give your children crucial guidance about how to respond.
The Federal Emergency Management Agency (FEMA) and the American Red Cross have prepared this brochure to help you help your children cope. Ultimately, you should decide what's best for your children, but consider using these suggestions as guidelines.
Children and Their Response to Disaster
Children depend on daily routines: They wake up, eat breakfast, go to school, play with friends. When emergencies or disasters interrupt this routine, children become anxious.
In a disaster, they'll look to you and other adults for help. How you react to an emergency gives them clues about how to act. If you react with alarm, a child may become more scared. They see our fear as proof that the danger is real.
Children's fears also may stem from their imagina­tion, and you should take these feelings seriously. A child who feels afraid is afraid. Your words and actions can provide reassurance.
Feelings of fear are healthy and natural for adults and children. But as an adult, you need to keep control of the situation. When you're sure that danger has passed, concentrate on your child's emotional needs by asking the child to explain what's troubling him or her. Your response during this "problem time" may have a lasting impact.
Be aware that after a disaster, children are most afraid that —
• the event will happen again.
• someone will be injured or killed.
• they will be separated from the family.
• they will be left alone.